After a short break for finals and some recovery time from the past semester, your favorite student nutritionist staff is back for the summer!

​As any student understands, finals week gets rough.
Nutrition tends to go out the window when exam season hits. Between review sessions, all-nighters in McKeldin, and back to back exams, eating 4 servings of fruits and vegetables every day tends to take the back seat.

So it's only understandable that after exams end, after weeks of surviving on caffeine fumes and pizza delivery- paired with a looming beach season- many students make "summer goals"- summer diets, workout plans, and pretty large lifestyle changes to get their health back on track.

While these goals are well-meaning and thoughtful, many of them tend to go the way of New Years Resolutions:
They're ineffective and often forgotten in just a few weeks.

So how can you make sure that your summer resolution, summer goal, is the one that sticks?
How can you make your goals effective and lasting?

1. Work on new goals and habits when you have time and energy to spare.

It tends to be easier to focus on lifestyle changes when there are time and energy to spend on them- which is why summer tends to be a great time to make new habits! Plus, working on something new all summer will give you a solid basis to stick with it during the school year when life gets busy. I'm sure you've all found out that when life gets hard and busy (ie. finals week) new habits and changes just go out the window. You stick with what is easy and quick. So working on a new habit all summer- making it the easy and quick part of your life- will help you to keep up the work once the semester picks back up.

---

2. Form inclusive goals.

What the heck is an inclusive goal? It's adding things into your life instead of cutting things out. Too many diet plans and lifestyle changes involve elimination: sweets, grains, processed foods, TV time, or eating in the evening. Focusing on restrictions circles your thoughts around what you can't do, what you can't eat, and can result in backsliding and regression. When all you think about during the day is that you can't eat cake, what are you going to start craving? Cake.

Inclusive goals involve addition into your life or diet instead of elimination: eating more vegetables or fruits, including more whole grains, drinking more water. Inclusive goals are typically easier- it tends to be easy to eat an apple a day or drink an extra glass of water. And when you start filling your diet and life with beneficial goals, foods, and habits, all of the negatives start to fall out on their own without any purposeful restriction. If you eat a giant serving of salad or greens, you can certainly still have mac and cheese, cake, or cookies after- but you probably won't be as hungry for them and therefore won't eat as much.

3. Make S.M.A.R.T goals

SMART is an acronym for Specific, Measurable, Achievable, Relevant, Timely. SMART goals are used in business plans, productivity studies, and counseling settings because goals that fit the SMART criteria are highly effective, and- more often than not- easily achieved.

Specific: Goals need to explicitly state what you want to do. "Lose weight" is a solid goal but how will you get there? By eating more fruit? Working out more? The higher specificity the better. Improve a goal of "eat more fruit" to "eat an apple after my midmorning meeting on Wednesdays". The specificity sets a blueprint of achievement that is easy to follow.

Measurable: How will you know if you've achieved your goal? A famously ineffective goal is to "drink more water". Well, what is "more water"? Improve the goal to "drink 3 water bottles a day" or "drink one glass of water an hour"- that way at the end of the day you can see if you actually drank more water or not.

Achievable: Be realistic. If you hate salads, don't make a goal of eating a salad every day for lunch. Maybe increase your vegetables with a side salad, or a salad one day a week. Take small steps that you can realistically achieve. Making large goals can be a good way to stretch yourself to improve, but if you can't meet the goal it's not very inspiring to keep working.

Relevant: Make sure that this is a goal that is relevant to you, something that you want to do. Just because all of your friends are starting a new workout regimen, doesn't mean that making up at 6 am with them to run is a good goal for you. You might do better with evening yoga. It's important to keep your wants and needs in mind to ensure that goals are relevant.

Timely: Put a limit on how long it takes to achieve a goal. For small goals, typically a week is a good time span. Ex: "Eat a salad 4 times this week for lunch" that way at the end of the week you can reassess the goal and change it as needed

Following these tips will help you to make strong, SMART goals. Are there any goals you're working on this summer? Please share in the comments!
Powered by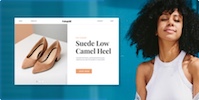 Create your own unique website with customizable templates.
Photo used under Creative Commons from Veganbaking.net